3 Valve Brass Key Signature Fingering Chart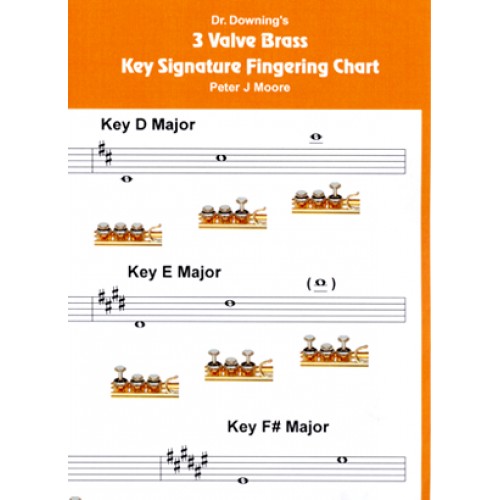 Multiple sharps and flats confusing you?
YOU NEED THIS CHART!
Product Details
Product Details
Do you have difficulty remembering to play the flats or sharps in a key signature? Can you remember which notes are which on the leger lines? Most people have trouble recognising the notes on leger lines, particularly if there are more than three lines. So we invented our unique, key signature Trumpet fingering chart. It makes it easy for you to play the correct note. What's more, you do not even have to try to remember the names of the notes. The chart shows you the correct basic fingering to get it right quickly and simply. Full colour pictures of valves with little finger hook, Dr Downing's 3 Valve Brass Key Signature fingering chart is plastic laminated for strength and wipes clean. It folds vertically so that it easily fits your pocket or instrument case.  Unfolded, you can read it easily on your music stand and it will not fall over. Together with our Professional 3 Valve Chromatic Fingering Chart, you will soon master the intricacies of fingering.