Bb/F Tenor Trombone Chromatic Slide Chart - 4 Clefs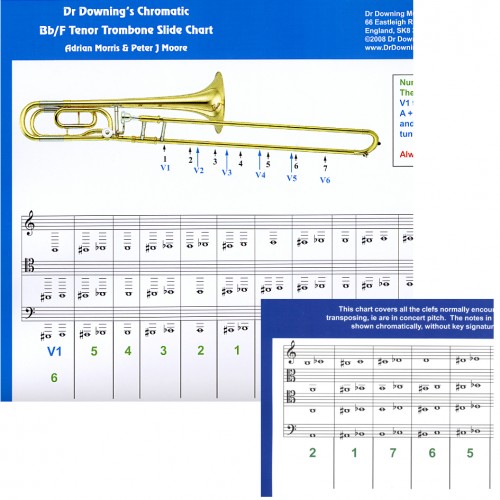 All the slide positions used by professionals!
Copy the best to be the best!

Product Details
Product Details
Here is the answer - a slide chart that has ALL the clefs! Bass Clef, Treble Clef, Alto and Tenor Clef - read on.... This chromatic Trombone chart follows in our long established tradition of showing all four clefs found in tenor trombone parts. Are you a brass bandsman reading treble clef but need to read bass clef? Do you need to read tenor clef and get confused? Perhaps you are an orchestral trombone player and often have parts switching in and out of Bass and Tenor clefs - here is a perfect companion for you too. Many older orchestral works are written entirely in Alto Clef, so it's also included - easy! Our Trombone Slide Charts are ideal for sight reading practice. No note names to get in the way - just the notes as you see them in the music. All of our Trombone Slide Charts are plastic laminated for strength - wipe clean - and a compact handy size to fit in your trombone case or pocket. Unfolded, you can read it easily on your music stand and it will not fall over. It will last you for years - or until you no longer need it! The F trigger not only changes the normal Bb key to the key of F, it adds an extra octave to the normal straight trombone bottom note of E.