Bassoon Reed - Finished - Gonzalez Cane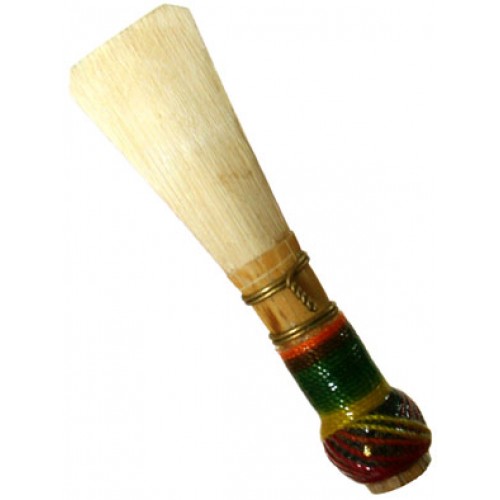 Hand-made organic bassoon reeds. Made exclusively with organically grown cane from Gonzalez's plantations in the South American Andes.
NOT harvested from NON-ORGANIC WILD cane which grows in Europe and much of the world.

Product Details
Product Details
Sandra Downing is an expert reed maker with more than 53 years experience of making bassoon reeds for herself and her students. Her renowned book the Bassoon Reed Doctor has helped thousands of bassoonists to make commercial bassoon reeds work properly. Now Sandra is offering you her own hand-made reeds. There is no such thing as a "professional" bassoon reed or a "beginner's" bassoon reed - just different makes and strengths. Whether you are a beginner or an "old hand", you should be striving to make a sound like a top professional bassoonist. Mass produced, "cheap" bassoon reeds will never give you the best quality of sound. You will be dissatisfied with them and dump them - which actually makes them more expensive, because the reed cane used by such reed makers is harvested from the wild, not from dedicated commercial plantations. As the quality of cane is so highly variable, you will also be dissatisfied with such reeds and quickly dump them. That makes the "cut price bassoon reeds" more expensive than Sandra's top quality handmade bassoon reeds - made exclusively from cane from tried and trusted growers. You'll get many more hours of enjoyable playing from Dr Downing's bassoon reeds because we ONLY use cane from Gonzalez. They have developed organic plantations at the foot of the Andes in Argentina, in ideal conditions to grow Arundo Donax cane, under strictly controlled organic farming methods. We believe their cane to be absolutely the best available. Our only grumble with their cane, however, is that it lasts so much longer than the cheap rubbish that you will not come back to us as often as we would like! Ah well, it is better to have really satisfied customers who DO come back eventually. To sound like a professional, play on exactly the same quality of bassoon reed as a professional performer. Note the word "quality" - not hardness. Softness or hardness is a matter of individual choice and individual final adjustment.