Oboe Technique Doctor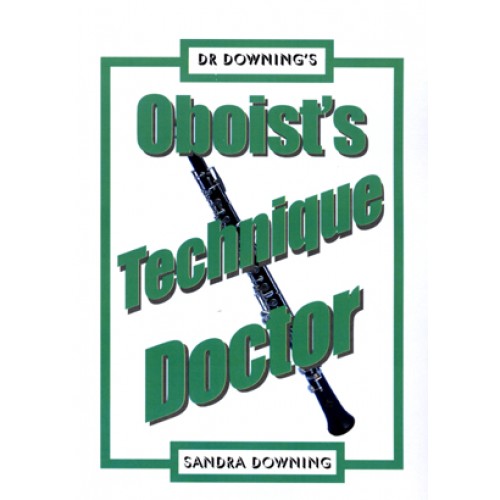 Whether a beginner or "rusty old hand", Sandra Downing's Technique Doctor will be invaluable.
Product Details
Product Details
Sandra Downing's Oboe technique doctor can be used alongside any tutor book. Oboe tutor books only teach music. They don't show you how to play your oboe properly. If they do try, many of them get the basics completely wrong. Above all, Oboe tutor books NEVER tell you what to do when things do go wrong . The Oboe Technique Doctor does. We show you how to hold and play your oboe effortlessly and correctly. No matter whether you are a beginner or an old hand, we cover basics from developing a good Oboe embouchure from the first sound to playing top notes. Low notes, middle notes, high notes with great tone and easily. All this in a handy pocket size book. Do you recognise any of these problems? 1. I can't get any notes below G in the bottom register. 2. My sound is very thin and weedy, particularly in the middle and upper registers. My family says I sound like a mouse in a match-box. 3. My sound is very loud and raucous, particularly when I have been playing for a while and I'm always being told that I play flat. 4. I can't get the sound to start exactly when I want it to. I am always two or three beats late in the orchestra. 5. I keep getting high squeaks when I am playing, particularly when I am playing solo. It is very embarrassing. 6. My right thumb and lower arm hurt after playing for a short while. 7. I get out of breath and out of time when playing staccato passages. 8. I cannot play scales evenly - there are often extra little notes in between. 9. I have difficulty reaching the alternative E flat key. 10. I can't play wide intervals downwards - the notes just jump up the octave. If I try wide intervals upwards, the note stays low. We explain fully and clearly and simply, without meaningles jargon, how to form and develop a good oboe embouchure; how to do legato and staccato tonguing; selecting a reed. Whether you are a beginner or an old hand, you will find the book a great help in getting you playing better.