Playing the Clarinet is Easy! Value Pack!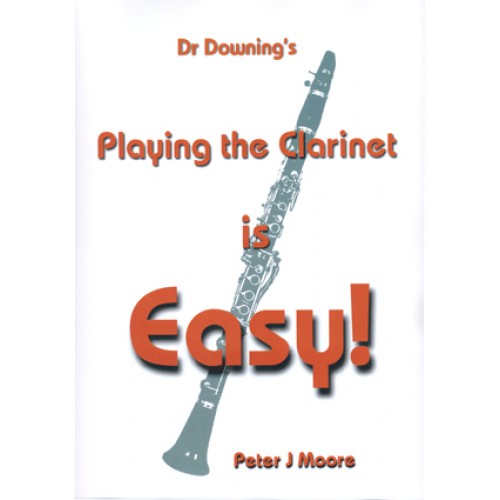 THIS SPECIAL CLARINET VALUE PACK has not only Playing the Clarinet is Easy! it also includes The Clarinettists Technique Doctor and The Professional Clarinet Fingering Chart - all three items for just £23.95 plus postage.

This book will take you by the hand and show you just how EASY the clarinet is to play!
YES - EASY!
Together with the Clarinettist's Technique Doctor, you will learn to play comfortably, without biting and blowing.
You will also learn true PROFESSIONAL CLARINET FINGERING - with none of the ludicrous "baby-talk-short-cuts" which plagued the old fashioned tutors.
If it's good enough for a professional then it MUST be good enough for our customers!

Product Details
Product Details
The Clarinet is genuinely easy to play - but only IF…. Yes, a BIG IF …. IF you are prepared to WORK at it! If you really WANT to learn and do exactly as we say, you WILL succeed. Standard tutors and primers teach the reading of music and note names, but don't teach you how to play the clarinet properly. In all standard tutors, many dating from the 1930's, without exception, fingering is "simplified" and the essential techniques of sound production and tonguing are completely ignored. Until you can control your clarinet properly, it is impossible to play music fluently. Everything we tell you in our books is tried and tested. The TRUE secret of learning any skill is to do exactly what professionals do - from the very beginning! Peter Moore gives you the secrets of CORRECT professional clarinet basics - from making the first sound - to playing the highest notes. 1) VITALLY, you learn how to make the correct clarinet sound - the professional way - by breathing - NOT BLOWING! 2) Then - how to stop and start that sound - how to tongue the clarinet correctly. Especially how to play silences! Yes, SILENT notes - commonly called "rests"! 3) From the beginning, you learn to play in the CLARION register, from middle line B to C, above the stave - NOT in the chalumeau (bottom) register. This means that your mouth-shape – your EMBOUCHURE – will be correct, otherwise you get no sound at all. 4) We show you how to hold the clarinet correctly. 5) You will NEVER be shown "dumbed –down" fingerings. You learn professional fingering to change registers, wrongly called "crossing the break", from the very beginning and NOT after 6 months of playing only the bottom register! There is no such thing as a "break". To us, it's a swearword! 6) You also learn how to play the highest or "altissimo register", as easily as the lowest notes. You learn a fluent clarinet fingering technique, with detailed photographs of correct fingering positions. Using our professional method, we can promise you, that you will be delighted with your progress. You will be playing smoothly and confidently from bottom E to Altissimo G, in weeks - NOT years. We also give you unique advice on how to use those "pinkie keys". The clarinet has four keys for little fingers (or pinkies) to play, which can be very confusing. Readers asked us how to use them - so we added a section devoted to little fingers technique. No other "tutor" gives you as much REAL information as "Playing the Clarinet is Easy!"
About the Author
About the Author
In 1956, aged 18, I taught myself to play the clarinet. Like so many others before me and since, I struggled to achieve a good technique despite the contradictory advice offered in the existing primers and tutor books - and still published today. If there is a fault to be played on the clarinet, I have suffered them all. Playing the Clarinet is Easy! is the result of more than 50 years study and teaching experience.