Professional Recorder Fingering Chart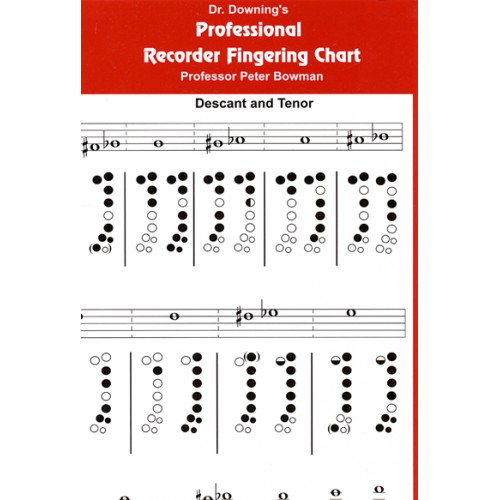 If it's good enough for the professional it MUST be good enough for you.
Product Details
Product Details
Plastic laminated for strength and durability the chart shows the fingerings for descant/tenor on one side and sopranino/treble/bass recorders on the other. Standard fingering charts only show basic fingerings.  As you know, the dynamic range of the recorder is limited. Trying to play both loud and soft on one fingering can cause you to play out of tune.  This handy chart, used together with Dr Downing's Recorder Technique Doctor,  by Peter Bowman, will get you playing better than ever.  All notes are shown in both flat and sharp form.  As an aid to teaching and learning to read at sight, "note names" are deliberately omitted. Use the fingering of professionals.  If it's good enough for the pro it MUST be good enough for us. Dr Downing's Professional Recorder Fingering Chart folds neatly in half to easily slip in your pocket.  Unfolded it stands upright on your music stand without toppling off.
About the Author
About the Author
Peter Bowman, Author of the Recorder Technique Doctors, and the Professional Recorder Fingering Chart,  Peter is lecturer in instrumental studies at Christchurch College, Canterbury.  He is also the founder of the UK Branch of the European Recorder Teachers Association and current Chairman. He has written extensively about Recorder Technique and teaching principles.