Recorder Technique Doctor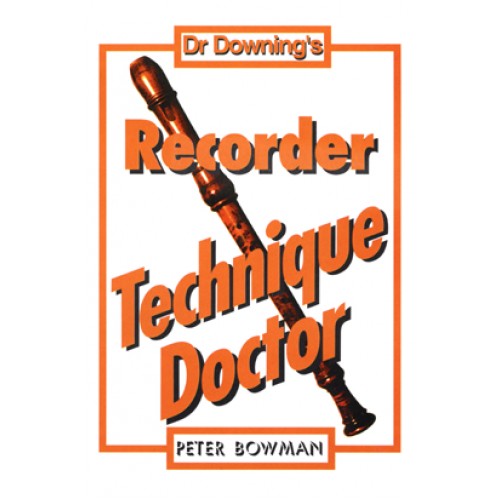 How to play the Descant or Treble Recorder
With Peter Bowman's Recorder Technique Doctors.
Product Details
Product Details
Written by Peter Bowman especially for parents and non-specialist music teachers. With Peter's excellent method, you can use any tutor book or primer for beginners yet still make sure your children get the basics right. Older children and adult players will find many useful techniques. Normal tutor books and primers concentrate on musical notation. They also frequently 'dumb down' technique and often get it wrong. With Peter Bowman's Recorder Technique Doctor, you can make sure that any errors in tutors are rectified. Click on sample page. Peter shows you the correct way to play the recorder: how to hold your recorder, how to get a beautiful, full sound, how to play loud and soft and, together with his Professional Recorder Fingering Chart, how to play the recorder in tune. In addition to troubleshooting your problems, Peter also covers embouchure techniques, thumb techniques, dynamics, fingerings and tonguing. Do you have problems like these? 1. I know that playing long notes is the best way to develop a good sound but they're boring! Isn't there a more pleasant way? Yes - here! 2. When I play slow music, my notes sound uneven and strangled. Why? 3. I'm always having to stop for breath after a couple of bars. How can I improve my breath control? 4. I often find the lowest notes impossible to play. 5. After playing for a short while, my right hand begins to hurt and my shoulders feel stiff. 6. I can't get notes in the upper register cleanly. Some notes sound very woolly. 7. When I play together with other recorder players it sounds dreadful. Everyone's instrument seems to sound different, particularly if they're in different registers like descant with tenors. What's wrong? 8. I play the tenor recorder and find that my right thumb becomes very painful after a short while. 9. Click on picture on the left. 10. My tenor recorder will not play notes above A (1st ledger line above treble clef). What's wrong? 11. I can't get my fingers and tongue to work together. The recorder is an often underrated instrument but played properly and well, you will be amazed. Get the best from your recorder and enjoy your playing more.
About the Author
About the Author
Peter Bowman, Author of the Recorder Technique Doctors, and the Professional Recorder Fingering Chart,  Peter is lecturer in instrumental studies at Christchurch College, Canterbury.  He is also the founder of the UK Branch of the European Recorder Teachers Association and current Chairman. He has written extensively about Recorder Technique and teaching principles.