Trombone Technique Doctor - Bass Clef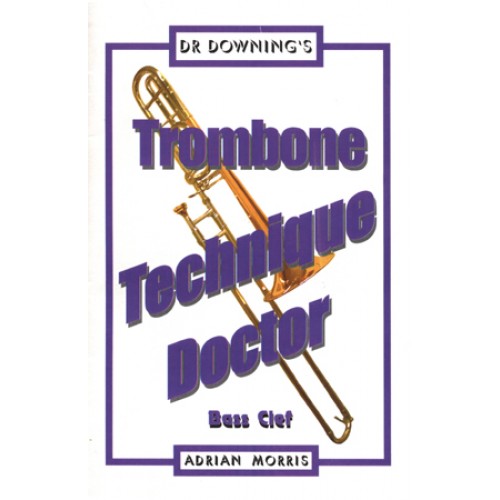 Adrian's Trombone Technique Doctor not only shows you how to play the trombone, it will help you to correct niggling little problems and set you on the right path to successful playing.
Product Details
Product Details
Would you like to learn to play the trombone from a great professional? Is your trombone technique smooth and fluent? And your trombone tonguing technique? Do you have any of these trombone technique problems? 1. `My left arm aches after only a short time. What am I doing wrong? 2. I get a horrible "splat" when I start a note. 3. My bandmaster says my sound is harsh and cracks when I try to play forte. How can I make it better? 4. My sound is raucous and brassy when I play fortissimo.  5. My sound bulges when I play fortissimo. 6. How do I play legato without tonguing? 7. What is the correct way to play staccato. My staccato sounds awful. 8. I run out of breath quickly. 9. I keep going wrong on the same passage. 10. I can't play pianissimo. 11. I try hard to get the top notes like Bflat/C but I keep falling off the note no matter how hard I squeeze with my lips. 12. I can't start the sound at the same time as the baton falls - I'm always a bit late.13. I have difficulty getting the right pitch when I am playing in the band or orchestra.................... The Trombone Technique Doctor, like all our books, is written in a no nonsense, jargon free style. It is also small enough to slip easily into your pocket, purse or trombone case.
About the Author
About the Author
The late Adrian "Benny" Morris. PPRNCM was Principal Bass Trombone with The Hallé Orchestra in Manchester, England. He was also Senior Trombone Tutor at The Royal Northern College of Music Manchester and Salford University. During his time Adrian played with many of the country's leading orchestras and performed in most of Europe's finest Concert Halls. His many successful students all say he was an inspirational teacher - we agree wholeheartedly!